Looking for the Dopest City to Visit in Texas? Look no Further, Marfa is Here
I first learned about Marfa, Texas after reading an article covering the opening of the Prada Marfa installation, designed and built in 2005 using the Prada runway collection. This pop art permanently installed sculpture was created by artists Elmgreen and Dragnet who have been known to create witty and subversive works of art around the world. So, the idea of visiting what looks like an actual Prada store in the middle of the high desert was electrifying and I had to set it on my bucket list of places to see with my own eyes.
However, I quickly learned that Marfa, TX isn't the easiest of places to get to. It's about 8-12 hours from most major cities so I couldn't easily tack it on to a business trip. But finally, in March of 2016 (only 11 years later - better late than never, right?), I booked my plane ticket, reserved a car, and for a weekend stay in Marfa I went. And it was so worth it!
Marfa is more than mysterious and has morphed into a chic art mecca from the original dusty town that Donald Judd set out for after he left NYC in the 1970s. It is an artists haven, a place that celebrities have grown to love, and an intimate art tourist town with a population of about 2,100, who work hard to preserve this little special oasis in the Chihuahua high desert. I fell in love with its colors, designs and delicious foods. I quickly learned Marfa is more than just Prada - a most special eclectic place that you have to get to stat.
8 Things to Know before you go:
1. If you are only visiting Marfa, a long weekend is an appropriate amount of time.
2. The El Paso airport will be your closest international airport (190 miles away) if you are flying in to the area. Otherwise its about 529 miles from Houston. 429 miles from Austin and 521 miles from Dallas.
A few points to note about the drive from the El Paso airport:
You will drive along the border to Mexico. If you're using your phone for GPS, pay close attention to which phone company you are picking your data up from. About 40 minutes, while also taking a call, I noticed 'Movistar' as my data provider and quickly hopped off the phone. It was the strongest cell phone tower that ATT could connect to and so international roaming I went. I eventually worked things out with the phone company, but to avoid this hassle, might be best to turn off roaming and/or screen shot the directions and keep your phone in airplane mode for a little while.
Once you're out of El Paso you will mostly be on a 2 lane highway. There won't be a lot of traffic here, but you will likely need to stop briefly at border patrol. It's a three hour drive, so plan to rent something fuel efficient. Once you hit the highway outside of El Paso there won't be a gas station for a while.
The Prada Marfa installation is not actually in Marfa, TX, but Valentine, so you will hit this about 30 minutes before you get to Marfa. I have a point later on about this if you are planning to photograph it for more than a quick Facebook souvenir shot.
4. Not all establishments will take credit card in Marfa or they may strictly enforce minimum amounts for a purchase, so if you don't normally bring much cash on your trips, this is one American city you want to bring cash for.
5. With an altitude is 4800 ft., the high desert offers a variety of weather - wind, dust storms, warm sun during the day and cool at night. The evening temps were in the 40s in late March/early April. This high plains desert is dry so bring good lip protection and warm clothes for night time. Think layers. Marfa has an amazing starry night sky. So you'll want to be comfortable when you gaze up at its beauty.
6. Marfa is in central time. El Paso is in mountain time. Be aware of this for flight times when you depart.
7. Bring ear plugs. The Union Pacific train is very real and the closer you stay to the tracks the louder it will be. Plus you may come across some partiers until the wee hours of the morning. You can always join them, I guess.
8. Bring a flashlight or headlamp.
Where to Stay: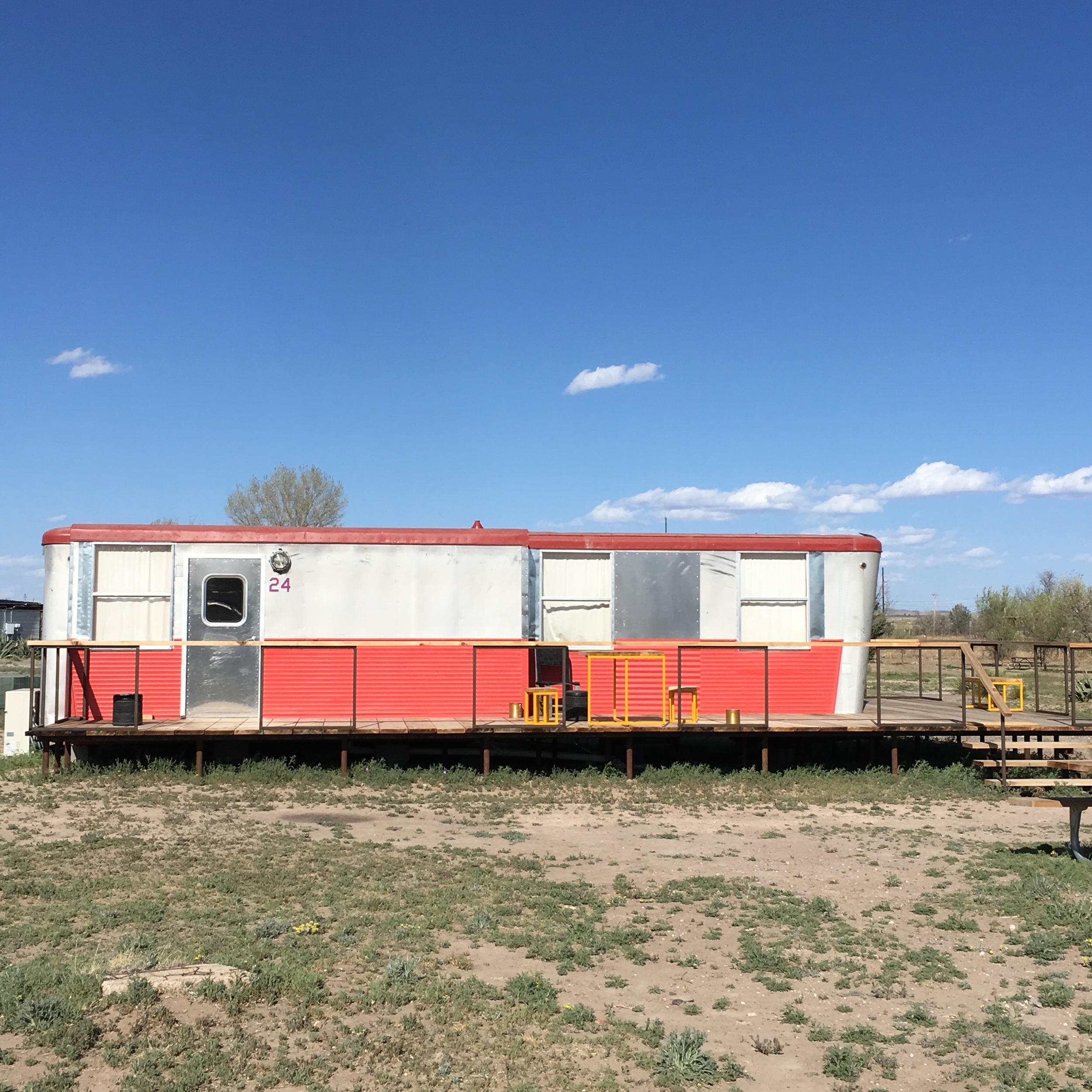 I decided to treat myself to a stay at the 21 acre campground, El Cosmico.
Simply put, El Cosmico is rad. If you don't normally camp, you can reserve a stay in one of the trailers with your own showers (best to book far enough in advance), but spending a night in the safari tent is worth the experience. El Cosmico provides a heated mattress pad in the tent, so you'll be toasty and note the showers are communal if you aren't in your own trailer.
When I arrived I was met with a friendly smile and a map of town. And the smell of the lobby was perfect. You'll immediately notice the bright colors and stylish desert flair.
Where to eat:
Special note: restaurants tend to open whenever they want, so best to have in mind where you want to eat, but stay flexible.
For example, the Food Shark Food truck is definitely worth the visit, but its only open from 12-3 pm.
The Capri restaurant - tapas style portions with beautiful dinnerware and delicious food. Well seasoned and properly treated. Very careful. Great ambience inside or out.
Squeeze Marfa for breakfast - Super cute. Vibrant. Very slow - a little disorganized and can run out of food when breakfast is winding down. I ordered the breakfast baguette. Great food and flavor combinations.
St. George's hotel restaurant for dinner - great rosé, seasoned fries, and more quality ingredients.
What to do:
Walk about town. Since art rules here there is beautiful architecture and careful design throughout this city with a population 2100. Get up early stroll around town when its crisp and peaceful.
Prada Marfa - If you want to get the best shots of Prada Marfa plan to rise early and shoot at sunrise. The sun sets off the back right corner of the installation. It lights up at night so if you have a DSLR you can get some nice night shots. If you plan to photograph this site you may need to make the drive back when the sun is positioned in the best spot. The high desert sun can easily wash out your photos. Very cool but almost sad. Be patient. Lots of tourists. Lots of photos.
The Marfa Book Company - located in the contemporary St. Georges hotel. A very clean, unassuming and hip bookstore and performance space with great polished concrete floors.
Ballroom Marfa - a special space for the contemporary arts protrayed through a variety of mediums such as music, performance, film and visual arts.
The Chinati Foundation - a contemporary art museum founded by Donald Judd, focused on presenting large scale works to the public.
Tons of galleries - There is so much great art to see here and located in too many galleries to list. Take your time exploring the various installations through-out town.
Marfa Lights - or Marfa Ghost Lights. Are they paranormal phenomena or headlights off in the distance? Head to the Marfa Lights viewing center and you be the judge.
If you have some time, drive out to Marathon, two towns out from Marfa. You will pass through Alpine, which has cute shops, and you'll pass the target installation, which is random and fun.
I hope you find Marfa to be as bad ass as I did. Let me know what you think and if you have any other recommendations from your time in this little town of art.
Bisous,
T.